Developing New Iwa Enogu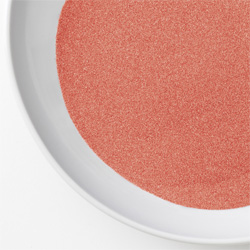 In recent years, amids heated debate on a global scale regarding environmental issues caused by lead pollution, the development and manufacture of lead-free Iwa Enogu as an alternative to man-made Iwa Enogu (containing lead) is in demand.
Nakagawa Gofun Enogu, in collaboration with the Kyoto Prefectural Technology Center for Small and Medium Enterprises and Company S, following approximately 10 years of research, developed and patented lead-free Iwa Enogu for paintings (Nihonga) and successfully commercialized 6 color lines (60 colors) in 2010.
This lead-free Iwa Enogu (our registered trademark is Kyojyo Iwa Enogu) is a new-generation painting pigment which, in addition to preventing environmental pollution caused by lead, possesses good decorative qualities and excellent safety as well as resistance to environment-polluting gas.
Apart from Nihonga, Kyojyo Iwa Enogu is also anticipated as an outer coating beneficial in the protection of cultural heritage buildings such as temples and shrines.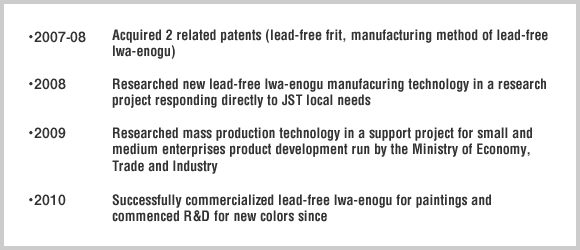 All samples of lead-free Iwa Enogu for paintings (Kyojyo) researched and developed to date have demonstrated good decorative (drawing) qualities and excellent resistance against environment-polluting mixed gas better than conventional pigments.

May 31, 2011: Iwa Enogu targeted by Japanese research was additionally registered as a Resource Derived by Local Industry of the Ministry of Economy, Trade and Industry
September 30, 2011: The Ministry of Economy, Trade and Industry certified a 5 Year Plan for Projects Utilizing Resource Derived by Local Industry of Collaborative Research Companies
Currently engaged in a government subsidized project (3rd term) for the development and sales promotion of new lead-free Iwa Enogu colors